Community building with Great Commissions Ministries International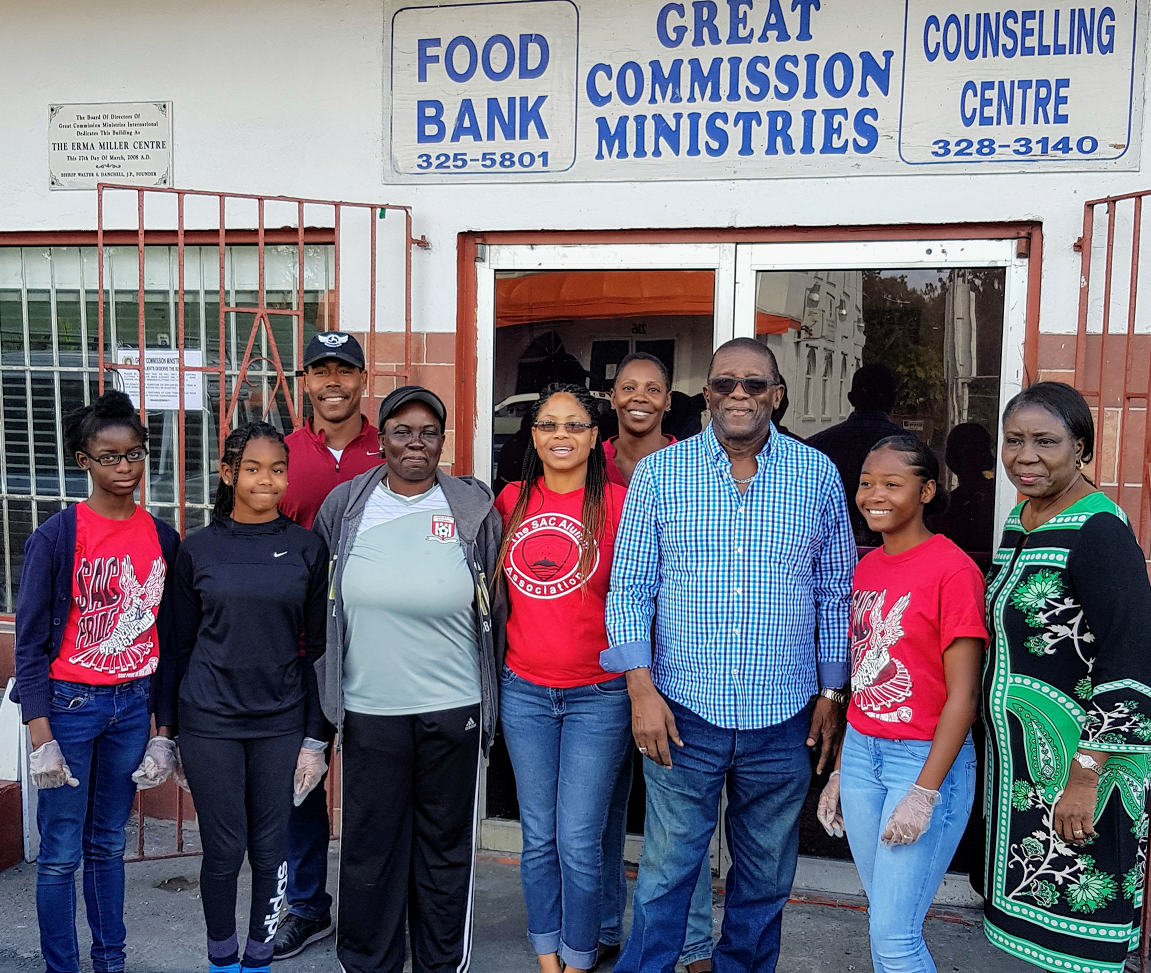 The SAC Alumni Association (SACAA) in keeping with its commitment of lending support to charitable outlets in the community at large, reported for duty at Great Commission Ministries on Saturday 29th February 2020. They did not come alone as they were joined by members of the St. Augustine's College Junior Girls Soccer team and their coach Daria Adderley. Coach Adderley is the daughter of SAC legendary icon Deacon Leviticus 'Uncle Lou" Adderley and an alumna of the school as well. Following in her father's footsteps, she sought to offer support to a community building project of her alumni association while instilling in her students the concept and importance of giving back.
Great Commission Ministries was founded in 1987 by Bishop Walter Hanchell who is also an alumnus of St. Augustine's College. Bishop Hanchell, among many of his accolades, is also the first Humanitarian Award recipient of SACAA's Inaugural Lighthouse Awards & Gala in 2018.
We spoke to Mrs. Minalee Hanchell, wife of Bishop Hanchell, who tirelessly oversees the daily operations of Great Commission Ministries. She says " This work is something I am very passionate about. We are very big on empowering children and youth in the community to become very productive citizens". She went on to explain that Great Commission Ministries is not limited to just children and youth. They go out into the streets and visit the homes of the elderly, the sick and the shut in. They provide them with food while sharing the word of God. Great Commission Ministries also feeds on average 300 people per day 5 days a week, offers shelter to homeless people, and gives out care packages of toiletries and food items to those in need. They also provide leadership training, drug abuse rehabilitation, after care services and natural disaster relief assistance.
When the alumni volunteers arrived, they were greeted by 60 children of varying ages. Saturdays are reserved for the youth programs, and the team jumped into gear assisting the youth with creative art and craft projects. When the children took their lunch break (lunch is always provided), the volunteers packed donated toiletry kits for GCMI's dispensary and distribution center. Then it was time to get dirty downstairs cleaning, installing and arranging furniture in the dining hall and kitchen under renovation to include more patrons for their feeding program. Unfortunately as quickly as it started, the day was over! SACAA wishes to thank Convoy of Hope for partnering in this charitable program in which they donated food items and toiletries while SACAA provided the man power.
Pictured left to right (front): Jameka Woodside, Lauren Moxey, coach Daria Adderley, president Cherelle Cartwright, Bishop Walter Hanchell, Jadon Demeritte, director Mrs. Minalee Hanchell. Back row: assistant treasurer Osbourne Moxey and Lynette Minnis